Anatomy of a Champion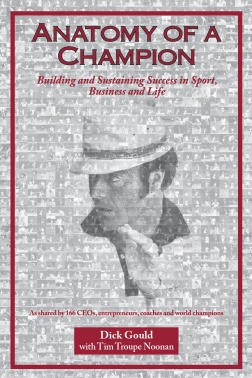 Building and Sustaining Success in Sport, Business and Life
Published by Waterside Productions
By Dick Gould with Tim Troupe Noonan
From the Foreword by John McEnroe
Anatomy of a Champion: Building and Sustaining Success in Sport, Business and Life
is a unique "collective memoir" of 166 CEOs, entrepreneurs, coaches and NCAA and world champions, all of whom began their careers as players for legendary Stanford University tennis coach Dick Gould. In this invaluable resource for leaders in all walks of life, they share the critical principles of leadership, team-building and sustaining success they learned over 40 years and later applied in their subsequent careers in sports, business, medicine, education and a variety of other fields.
This particular group of men has, collectively and individually, a deep understanding of the infrastructure of both management and success well beyond tennis. Some are of course former world number ones or Grand Slam tennis champions; almost all of the rest have gone on to extraordinary achievements in other professional fields. A few have worked closely with other great leaders like Jobs and Bezos, and they favorably compare the leadership stye of Gould to each of them. The reader learns ways he or she can fashion a group of talented individuals – a sports team, a sales department, an office, a company, a scout troop— into a cohesive team which can perform at the maximum level of its ability year after year.
Anatomy
will appeal leaders of all kinds… coaches in all sports and at all levels, CEOs, sales managers, heads of departments… any individuals who find themselves in leadership position and who are or will be measured by how well their team succeeds…and keeps succeeding. Additional readers will come from individuals who aspire to leadership or desire a better understanding of the principles of success or how to be an effective team member. And given the personalities like John McEnroe, who pens the foreword, and the Bryan brothers who populate its pages, Anatomy will naturally have tremendous appeal among tennis fans.
Anatomy
is an entertaining read, replete with lively stories and anecdotes with many players. well-known and not, reflecting on extraordinary adventures and lessons learned. It has the feel of a bunch of friends gathering to tell old and interesting war stories, but with an agenda of uncovering the common points about how they succeeded so magnificently in all areas of life. Their observations about leadership and their words, which are both eloquent and instructive, are the organizing principles of
Anatomy of a Champion
.
Because Gould was also a master innovator and marketer, a second theme of the book, highlights his marketing techniques. For instance, at Stanford he turned a sport with a few drowsy spectators in rundown bleachers into an event regularly played out before more than 7,000 screaming fans filling the basketball arena, with the band blaring, cheerleaders and a rowdy basketball atmosphere. Eventually he built a stadium; tournaments, camps, television and the other accoutrements of success followed. When he retired from Stanford, the men's tennis program was one of the only athletic programs in the country in any sport which is truly and completely endowed.